Ce freeware est inspiré d'un autre utilitaire developpé par Srinivas Vaithianathan diponible sur Codeproject (Versioning of executables at build time). L'ayant complétement recodé il ne reste plus aucune ligne de code de l'outil original.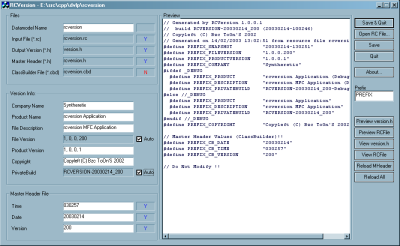 Introduction

EPUIS quelques années, j'utilise un fabuleux outil OpenSource nommé
ClassBuilder
de Jimmy Venema et disponible sur
SourceForge
.
From Sourceforge project page : ClassBuilder is freeware CASE tool targeted at the C++ developer, running on Win95/98/NT. It lets you create, manipulate and navigate classes, class relations, class members and class methods at a high level of abstraction trough a graphical user interface.
Pour chaque classe ClassBuilder génère deux fichiers source : un fichier entête (*.h) et un fichier pour le code lui-même (*.cpp). Il génère aussi un fichier d'entête principale (*.h) pour l'ensemble du modèle UML. Ce fichier, appelé Master Header File, inclus toutes les definitions de classe, les typedefs, constantes, macros, etc... Ce fichier contient aussi des constantes symboliques automatiquement mises à jour à chaque génération des sources.
Par exemple si le modèle de donnée se nomme 'model' the Master Header File contient les définitions de constantes suivantes.
#define MODEL_DATE 20030211
#define MODEL_TIME 193311
#define MODEL_VERSION 12
A chaque fois que l'interface de l'API change Classbuilder incrémente MODEL_VERSION et met à jour MODEL_DATE and MODEL_TIME.
Compilation du modéle de donnée
Afin d'utilser le modéle de donnée il est nécessaire de le compiler !

. Plusieurs options sont possibles :

le compiler directement avec le programme qui l'utilise (la pire des méthodes

! !)

le compiler sous forme de
librairie statique (*.lib)
(bien souvent le plus simple)

le compiler sous forme de
librairie dynamique (*.dll)
(le plus élégant mais aussi le plus sportif !)

le compiler sous forme d'
executable (*.exe)
(souvent significatif d'une mauvaise abstration interface / metier / données)
Dans le cas ou il est compilé sous forme binaire (exe ou dll) l'assistant Visual Studio génère un fichier de définition de ressources (*.rc). Ce fichier contient la description des boîtes de dialogue, des icones, des bitmaps, etc... Il contient aussi la définition des informations de version du binaire produit.
fichier de définition de ressources (*.rc)
Here is the fragment of code in a Windows Resource File which describes the version information for RCVersion itself.
/////////////////////////////////////////////////////////////////////////////
//
// Version
//

VS_VERSION_INFO VERSIONINFO
FILEVERSION 1, 0, 0, 100
PRODUCTVERSION 1, 0, 0, 1
FILEFLAGSMASK 0x3fL
#ifdef _DEBUG
FILEFLAGS 0x9L
#else
FILEFLAGS 0x8L
#endif
FILEOS 0x4L
FILETYPE 0x1L
FILESUBTYPE 0x0L
BEGIN
BLOCK "StringFileInfo"
BEGIN
BLOCK "040904b0"
BEGIN
VALUE "Comments", "Modified by BZCToOn's"
VALUE "CompanyName", "Syntheretix"
VALUE "FileDescription", "rcversion MFC Application"
VALUE "FileVersion", "1, 0, 0, 100"
VALUE "InternalName", "rcversion"
VALUE "LegalCopyright", "Copyleft (C) Bzc ToOn'S 2002"
VALUE "OriginalFilename", "rcversion.EXE"
VALUE "PrivateBuild", "RCVERSION-20030212_100"
VALUE "ProductName", "rcversion Application"
VALUE "ProductVersion", "1, 0, 0, 1"
END
END
BLOCK "VarFileInfo"
BEGIN
VALUE "Translation", 0x409, 1200
END
END
What RCVersion do ?
RCVersion parses both the Master Header File and the Resources File. Next, according to the information contained in these two files, it generates a file named version.h and updates the Resources File.
Output : version.h
Here is the output file produced by RCVersion for itself.
// Generated by RCVersion 1.0.0.1 build RCVERSION-20030212_100 (20030213-020245)
// Copyleft (C) Bzc ToOn'S 2002
// Generated on 13/02/2003 02:02:46 from resource file rcversion.rc
#define __SNAPSHOT__ "20030213-020246"
#define __FILEVERSION__ "1.0.0.100"
#define __PRODUCTVERSION__ "1.0.0.1"
#define __COMPANY__ "Syntheretix"
#define __PRODUCT__ "rcversion Application"
#define __DESCRIPTION__ "rcversion MFC Application"
#define __PRIVATEBUILD__ "RCVERSION-20030212_100"
#define __COPYRIGHT__ "Copyleft (C) Bzc ToOn'S 2002"

// Master Header Values (ClassBuilder)!!
#define __CB_DATE__ "20030212"
#define __CB_TIME__ "190244"
#define __CB_VERSION__ "100"

// Do Not Modify !!
Command line execution
rcversion [-q] [-i input]

(q) quiet : don't show the UI. This option is useful in Custom Build Step in Visual Studio


(i) input : specify the input file. The input file could be *.rc or *.h. The filename without extension will be used as data model name.
How to use RCVersion with Visual Studio

1. Add a file to project : version.h


2. Define Custom Build Step Command Line : rcversion -q -i $(TargetName)
Description : RCVersion
Output : version.h
Dependencies : $(TargetName).h
You can now put #include 'version.h' in '$(TargetName).h' or in 'stdafx.h'.
DON'T FORGET TO PUT RCVERSION IN PATH or TO SET VISUAL STUDIO EXECUTABLE PATH TO THE DIRECTORY WHERE RCVERSION IS INSTALLED
Features

Version number extraction from Classbuilder Master Header File

RC File version information editor

version.h generation

Optional RC file update

Backup of your old version.h and RC files

Preview of version.h and RC files

Edition of version.h and RC files (thought notepad


Non interactive execution
Bugs & limitation
I only tested RCVersion on my own projects. For me it runs fine. I hope for you too

.
History
RCVERSION-20030212_100

First release
RCVERSION-20030214_200

version.h : Added #ifdef _DEBUG / #endif


version.h : better formatting


Added new field 'Symbols Prefix' to the symbolic constants


Added new command line option -p prefix to set the symbols prefix


Preview control is now a RichEdit one to support fixed width font
Fixed Bugs

RCFile parsing : If a control ID contains one of the VERSIONINFO directive (FILEVERSION, PRODUCTVERSION) the whole line is replaced and the whole RCFile is corrupted.


version.h : Bad date formatting (minutes were months).


Master Header parsing : now it can read symbolic constants separated by a tabulation char.